Universal Portable Battery Powered Winch designed for both lifting and pulling
WINQ WLQ-05 Portable Winch Hoist, DC Powered Lifting and Pulling Tool
Lifts or pulls up to 1000lbs. (450kg)
Cordless 24V version is great for use in field
When work takes you to more remote locations, bring the mechanical muscle of the portable, cordless 24v with you. From tough tasks like pulling pipe to stretching wire fence, you'll come to count on 24v to get the job done quickly and effortlessly.
It's easy-to-mount and ideal for mobile use on pickup materials, machines, trucks etc
Equipped with a strong motor. this tool allows you to move heavy items into place with minimum effort.
With its dynamic brake that holds in position under load--even when powered down--it can be used both as a winch (for pulling) and as a hoist (for lifting and holding).
PORTABLE BATTERY POWERED WINCH

Universal portable battery powered winch designed for both lifting and pulling

Perfect for applications such as caravan/boat pulling, loading trailers and arborvitae work

Lightweight and easy to use

Fitted with load indicator display

Supplied with 2x 24V Nimh Rechargeable Batteries

Lifting capacity: 100kg

Pulling capacity: 400kg

Speed: 5mtrs/min

Rope diameter: 5.8mm

Rope length: 4.6mtr

Battery charging time: approx 2-3hrs

Supplied with battery charging unit

Weight: 8.2kg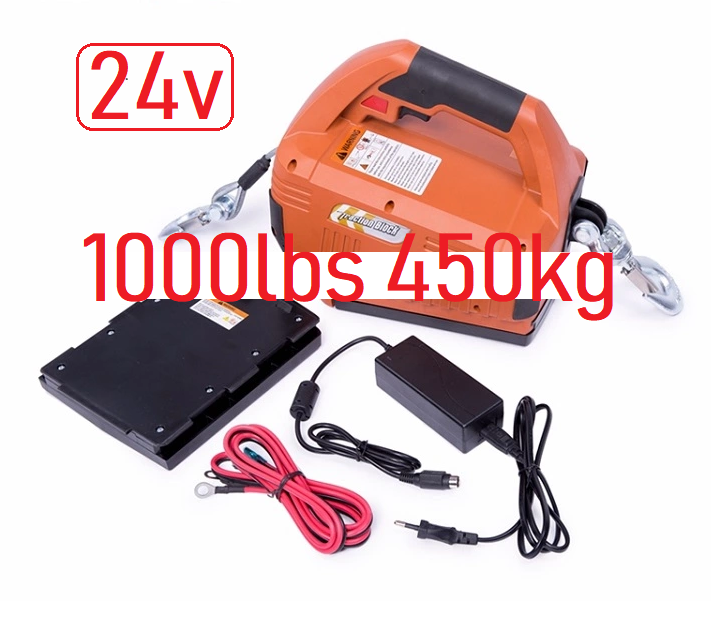 12 month warranty
Showing 1 to 2 of 2 (1 Pages)